DENTIST IN THE NORTHLAKE CHARLOTTE AREA
Office Details
Welcome to our dental practice in Northlake, Charlotte, NC. As your #1 Northlake dentist, we proudly offer a wide range of dental services to patients of all ages. Our experienced and dedicated dental professionals, spearheaded by Dr. Taj Haynes, are committed to providing you and your family with top-quality dental care in a comfortable and welcoming environment.
Whether you are looking for routine teeth cleanings and checkups or need more extensive dental treatments such as fillings, crowns, or dental implants, we are here to provide you with the highest quality care possible. We use the latest dental technologies and techniques to ensure you receive the most effective and comfortable treatments. Here are some of the top oral care treatments provided by our dentist in the Northlake area in Charlotte, NC:
Our emergency dentist in Northlake offers same-day emergency appointments to ensure that you receive prompt and effective care. Our team is well-equipped to handle a variety of dental emergencies, including:
Broken or chipped teeth

Lost fillings or crowns

Gum or mouth injuries

Abscesses or infections

Fractured or knocked-out teeth
We also offer affordable sleep apnea consultation and velscope oral cancer screening. Our team of dental professionals has extensive experience and training to ensure you receive the best possible care. We use the latest dental technology and techniques to provide high-quality dental treatments. We understand that visiting the dentist can be stressful for some people, so we work hard to create a relaxed and welcoming atmosphere.
AFFORDABLE DENTIST IN NORTHLAKE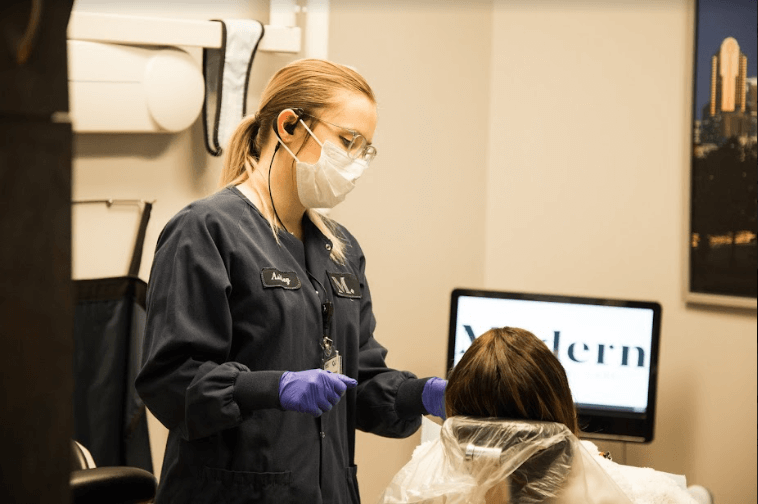 Modern Family Dental Care in Northlake provides the best and most affordable family dentistry services and treatments for all your oral care needs. We are committed to ensuring safe, fast, comfortable, and efficient dental procedures. Our dental office in Northlake offers a welcoming ambiance, and our treatment rooms are equipped with television, internet access, and other amazing amenities.
At our Northlake dental practice, we believe that communication is key to successful dental treatment. We take the time to listen to your concerns, answer your questions, and explain your treatment options in a way that is easy to understand. Our goal is to provide the best dental experience for your entire family while helping you make informed decisions about your dental care to achieve optimal oral health.
So, if you are looking for the best and most affordable dentist near Northlake Mall, look no further than our Northlake dental practice. Contact us today to schedule an appointment and experience the difference that quality dental care can make for your smile and overall health. You may also book an appointment through our 24/7 online scheduling system.
NORTHLAKE CHARLOTTE, NC LOCATION
8150 Mt Holly-Huntersville Rd, Suite A
Charlotte, NC 28216
Get Driving Directions
New Patients: (704) 810-2231
Existing Patients: (704) 810-2328
Reviews
DENTAL REVIEWS FOR THE northlake, NC OFFICE
Help us fill out this space. Write a review TODAY.