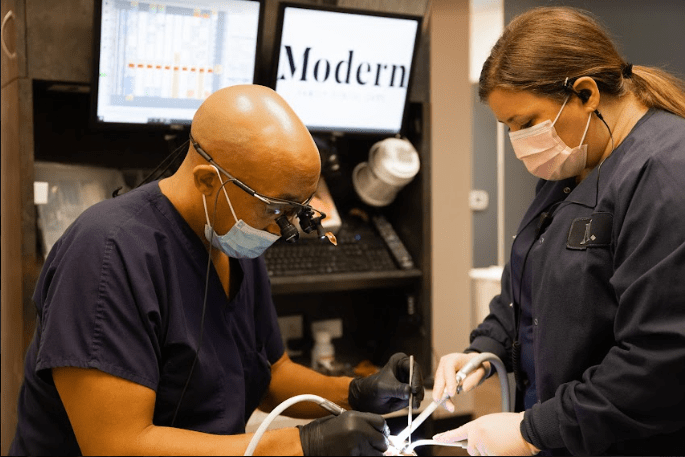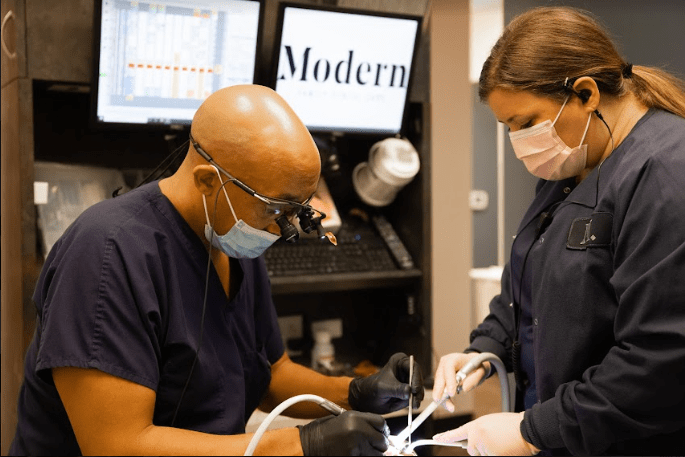 A missing tooth can be a disaster for your smile. You don't want this to happen, but sometimes, it's inevitable. Even worse, it could lead to issues like gum disease, tooth decay, and injury. Thankfully, dental implants are here to save the day and provide you with a permanent fix.
However, you might be wondering, can I get a dental implant from any dental practice? What type of dentist performs dental implant surgery, and where can I get the best dental implants in Charlotte, NC? Modern Family Dental Care provides answers to these questions and more in this post.
Can any dentist place a dental implant?
The short answer is no. While there are many different dentists and general dental professionals in North Carolina, only a licensed dentist is permitted to perform dental implant surgery. An unqualified dental practitioner who performs this surgery would be liable for dental malpractice.
There's a higher chance of dental implant failure and complications if you have an unqualified or inexperienced dentist. These complications include nerve or tissue damage, jaw fracture, prolonged bleeding, delayed bone healing, bone loss, damage to other teeth, etc. A qualified and experienced dentist knows how to avoid complications and can recommend the number of implants required to support the tooth replacement.
What is a dental implant?
A dental implant is a restorative procedure that uses a titanium post to support your replacement teeth. The metal post is surgically positioned in the jaw bone to act as a tooth root, allowing your dentist to mount an artificial tooth to the implant. A dental implant will not come loose and can provide a permanent fix for tooth loss if placed correctly.
Dental implants are becoming more popular due to their stability, longevity, and versatility. Choosing this dental restoration method for your missing teeth means you're ready to invest long-term in your oral health, overall wellbeing, and quality of life. However, you need to choose a qualified and experienced dentist to complete your treatment and avoid complications.
What type of dentist performs dental implant surgery?
Not all dentists are equally skilled. While you can visit any dentist for a dental implant, knowing exactly how experienced and qualified they are is essential. The following includes a few generalizations, but you still have to research your dentist's experience and credentials irrespective of their specialty:
Oral and maxillofacial surgeon
Maxillofacial or oral surgeons are dentists who have undergone years of extensive training outside of dental school and are highly proficient in dental surgeries. They have medical and dental training and have the highest expertise in placing implants and handling highly complex dental conditions.
Prosthodontists
These dentists specialize in replacing and repairing teeth, especially with prosthetics like implants and dentures. They have additional years of specialized training and are highly skilled in aesthetically driven treatment that produces functional and natural-looking outcomes.
Periodontists
People in this line of dentistry have significant years of training in treating or diagnosing problems with the teeth, gums, and jawbones. They have more clinical experience and training in placing dental implants than cosmetic and general dentists, making them a better provider to visit in this regard.
General and cosmetic dentists
General dentists typically focus on handling basic dental restorations and providing preventative care, while cosmetic dentists are more concerned about the overall appearance of teeth and smiles.
While some of these dentists have limited oral surgery experience, most will attend continuing education courses later in their careers. This broadens their skills and enables them to learn how to conduct dental implant surgery successfully. Moreover, a general or cosmetic dentist who places implants regularly would have the in-depth knowledge required to avoid complications and efficiently complete the treatment.
Minimizing the risk of implant failure or complications after a dental implant procedure
Although some complications and implant failures are preventable, you can minimize the risk of complications by:
Having your treatment done by a qualified professional
Caring for the implants by brushing and flossing daily and using fluoride toothpaste.
Visiting your dentist regularly (at least every six months).
Increasing your calcium intake
Quitting smoking, especially during your healing period
Avoiding immediate tooth replacement after getting a dental implant
Protecting your teeth with a mouth guard to avoid teeth grinding
Avoiding habits that can damage the teeth (i.e., eating candy, ice, and using your teeth as a tool)
The best dental implants in Charlotte and Concord, NC
Your best choice for getting a dental implant in Charlotte and Concord, NC, is Modern Family Dental Care. We have a team of experienced and qualified dental professionals who are passionate about their job. We also use state-of-art technology and high-quality materials for your implants, and our treatment procedure is safe, reliable, and innovative. Schedule an appointment with us today or visit our Concord Mills, Davis Lake near the University Charlotte area, and Northlake offices to discover how dental implants can help you achieve the beautiful, confident, and healthy smile you deserve.