Invisalign Concord Mills, NC Relies On
A straight smile not only enhances your looks but also benefits your overall oral health. When teeth are properly aligned, they are simpler to clean, reducing the risk of future dental problems. That is why we offer Invisalign Concord Mills, NC can count on, so you can effectively and inconspicuously straighten your teeth to get the beautiful and confident smiles you deserve.
Straighten Your Smile Discreetly With Invisalign Concord Mills, NC Trust
If you have been hesitant about correcting your smile because you don't want to deal with the discomfort of metal and wires, then our dentists in Concord Mills – Dr. Taj Haynes and Dr. Pernell Rogers, have a perfect solution for you! Our Invisalign clear aligners treatment subtly and conveniently repositions your teeth without the need for traditional braces and their metal components. Take the first step towards a beautifully aligned smile by booking your Invisalign consultation in Concord Mills today with Modern Family Dental Care.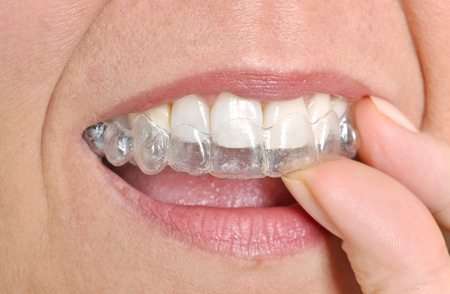 Benefits of Our Invisalign Treatment
Our Invisalign treatment offers several benefits, which include:

What To Expect During An Invisalign Treatment In Concord Mills
Your journey to a perfectly aligned smile starts with a consultation where our Invisalign dentist will evaluate your teeth, discuss your goals, and determine whether Invisalign suits you. If you're deemed a good candidate, we will take digital scans or impressions of your teeth to plan your treatment and design your Invisalign custom aligners. Using 3D technology, we can even show you a virtual representation of how your teeth will shift throughout the treatment.
Once your Invisalign aligners are ready, you'll receive multiple sets and wear each set for about 1-2 weeks (as per your dental professional advice) before moving to the next in the series. For optimal results, we recommend wearing the aligners for 20-22 hours a day, removing them only when you need to clean your teeth, eat, and drink anything other than water.
You need to visit your Invisalign dentist in Concord Mills periodically (typically every 6-8 weeks) to monitor your progress and check the fit of the aligners. When you start wearing your Invisalign aligners, you may experience slight discomfort from the pressure resulting from shifting your teeth toward their new position. However, this discomfort will subside within a few days.
Once you've progressed through all your Invisalign aligner sets and achieved the desired result, your Invisalign provider may recommend retainers to maintain your new smile. They will also provide periodic appointments to address any concerns and ensure your teeth remain in their new positions.
Transform Your Smile With Invisalign Concord Mills, NC Trust