Many people will have to find a new dentist during their time in Charlotte. Whether they are a new resident planting roots in Queen City, or they're unhappy with their current practice, these individuals will scour the internet for a Charlotte dental office that is friendly, effective and convenient to their home or work.
However, there are multiple factors that Charlotte residents may not consider before committing to a new dental practice. Keep these five aspects in mind next time you must look for a new dentist.

Location Hours and Convenience
The first consideration when someone is looking for a new dentist may be convenience, including location and hours of operation. Luckily, as a growing city, Charlotte has numerous dental offices to choose from. Within ten miles of Uptown, you can find a dental practice that meets your wants, needs and budget; some of which we will discuss in depth below.
Modern Family Dental Care is one of those practices. With three convenient locations in Charlotte and Concord, Modern makes it possible for even the busiest of families to find time to keep up with their dental care.
Try using Google Maps and search "Modern Family Dental Care" or "Charlotte Dentist Near Me," to see if Modern is at a convenient location to your work or home:
While the location of the dental office is important, it should not be your sole deciding factor when choosing a new dentist. You are looking for a dentist after all! You want to find a dental professional you trust, then a couple extra minutes on the road might be worth it.
One of the benefits of living in a city is most areas are within a half hour of each other – so make sure to do your research before committing to a location based on its distance to your work or home.
The Dentist
The most important factor to consider during your Charlotte dental care search is the person who will care for your teeth: the dentist. Your new dentist in Charlotte should be an individual you trust, who will take care of you during your time in and out of the dental chair.
For many, the fear of going to the dentist or dental anxiety may hold them back from seeking the proper dental care they need. It's important to find a dentist who is friendly, patient and can provide a wide range of in-house dental services, if needed.
At Modern Family Dental Care, we have a team of Charlotte dentists and hygienists who are eager and happy to help before, during and after your appointment.  Our owner, Dr. Taj Haynes is a premier example of a dentist who goes above and beyond for his patients. In addition to owning his own practice for over nine years, Dr. Taj has worked and trained with top doctors from around the world and is a member of various dental associations.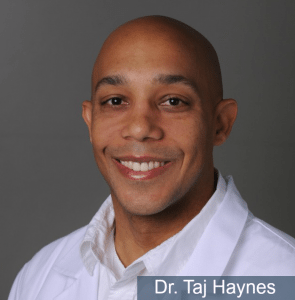 Dr. Taj is a graduate of the University of Pennsylvania School of Dental Medicine and has been featured on NBC's Charlotte Today to share his knowledge of dentistry with the greater Charlotte community. To learn more about Dr. Taj and the staff at Modern Family Dental Care, meet the team here!
Services Offered
When most people look for a new dentist office, they are likely looking for a dentist who can give them regular teeth cleaning. However, one tip that may help you save a lot of money in the long run is to go to a dentist that has the knowledge and experience to offer a wide range of in-house services. Unfortunately, you never know when a dental accident will strike. Instead of having to be referred to a specialist, find a dentist that has a wide variety of services in-house.
At Modern Family Dental Care, we want to protect our patients no matter what their ailment may be. That's why our dentists offer preventative, restorative and cosmetic services. For example, if you make the decision to straighten a couple of misaligned teeth, our dental practice is an Invisalign Preferred Partner® and can give you the smile you've always wanted without having to leave the dentist chair.
Our services also come in handy if you have tooth or gum pain that leads to emergency treatment. The Modern Dental Family Care office has a full range of emergency dental services to ensure your issues are treated efficiently and promptly.
Further, in the case of a lost or missing tooth, Dr. Taj is a diplomate of the International Dental Implant Association and one of the top dental implant providers in the country. Check out our services to see how Modern Family Dental Care can assist you!
Payment, Price & Insurance
An unfortunate truth about dental procedures, is they can be expensive. If you find a dental practice that you enjoy; you like the dentist, they have a wide-range of dental services, and they're within a convenient distance to your home or work; check their payment options.
If the dentist is in-network with your insurance plan, that's a plus. If not, a common misconception is that dental insurance provides a large discount on your treatments, when in reality, that's not necessarily true.
In addition to dental insurance, flexible payment options are an important part of your Charlotte dentist search. Some practices, like Modern Family Dental Care, offer payment plans and financing, which are ideal for larger procedures or more-costly services. This will help cushion the overall cost of a dental treatment, so you can pay in monthly increments, rather than all at once.
Modern also offers a Wellness Payment Plan for all individuals. This annual membership helps people with and without dental insurance save approximately 20% off average dental treatment fees.
Charlotte Dentist Reviews
Finally, before you pull the trigger on choosing your new Charlotte dentist, make sure you check their online reviews. You can find reviews on Google, Facebook or Yelp. A business with reviews between 4.5 and 4.8 is typically a good range; anything above (including 5-stars) may be an indication that something fishy is happening behind the scenes. Lower, and you should do more research.
When you look at Charlotte dentist reviews, just remember, you are looking at the number one medical field that people are afraid to go to! At Modern Family Dental Care, we take extra measures to make sure our patients are relaxed and comfortable during their dental examinations. Check out some of our testimonials today!
[activecampaign form=1]