Modern Family Dental Care offers a full range of oral care services from routine teeth cleanings to complex services like dental implants and Invisalign®. We provide specialized dental care to help you achieve dental goals that are specific to your needs.
Choose Modern Family Dental Care for all your oral care needs in Charlotte and Concord. We are here to provide beautiful smiles to your entire family!
5 Good Reasons Why You Should Choose Modern Family Dental Care for Your Oral Care Needs
Are you ready for an amazing dental experience?
Here are 5 reasons why you should choose Modern Family Dental Care for all your oral care needs:
#1 Our Modern Family Dental Care Team
Our team is spearheaded by Dr. Taj Haynes. Dr. Haynes is the owner and primary dentist at Modern Family Dental Care. His goal is to lead families to a more healthy lifestyle with quality and affordable oral care solutions.
Dr. Rogers, one of our general dentists, is committed to fixing his patient's teeth so they can smile proudly and feel better about themselves. We have three hygienists – Ashley, Luci and Meeka who provide comprehensive dental cleaning for you and your loved ones.
Our dental assistants Maxine, Morgan and Nica will help you feel relaxed throughout each dental procedure. Your dental appointments are evaluated by Nikki who will develop your on-going appointment schedule, so that you can have the best smile ever.
For assistance on your payment plans, you may coordinate with Sami. She will work closely with you to achieve the best financial outcome that suits you budget.
#2 Three Strategic Locations
Modern Family Dental Care currently has three locations. Our state-of-the-art dental care in Concord is patient-centered and we aim to provide the best dental care in a comfortable, friendly and welcoming environment.
Our dental practice in Davis Lake near the University Charlotte area offers affordable dental solutions for your entire family. Our dental office in Northlake also services the Huntersville area. We provide the best oral care options for your teeth, gums and jaw problems.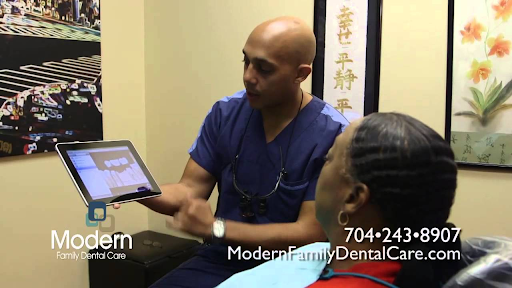 #3 Comprehensive and Affordable Services
Modern Family Dental Care provides comprehensive dental solutions to help prevent oral problems. Our preventive dental services include teeth cleaning, dental sealants and oral cancer screening.
Your oral health is important to us! Let us help you restore the health and beauty of your teeth with our restorative dental options. We provide the most advanced techniques in root canal treatment and denture procedures.
At Modern Family Dental Care, we understand that having a beautiful smile is important. We can help you achieve your dental aesthetic goals with our exceptional cosmetic oral procedures. Our state-of-the-art Invisalign® and dental implant procedures will help you smile with confidence.
Modern Family Dental Care cares for your well-being! We offer a sleep wellness program to patients who may have signs and symptoms of sleep apnea. We also provide same-day dental emergency treatments that aims to provide relief from toothache and gum infection.
#4 Our Patients
Our practice is patient satisfaction guaranteed!
At Modern Family Dental Care, we ensure that our patients will walk out of our door with a big smile on their faces. Read our patients' testimonials to see how we make them confident with their oral health and smile.
#5 Our Wellness Savings Plan
We accept most dental insurance plans and we offer dental financing. We strive to make our dental care more affordable with our dental discount plan.
We also have our own wellness savings plan. Patients without dental insurances may enroll in our Wellness Savings Plan and save 20% off the average dental treatment fees.
Here is what the Wellness Savings Plan covers:
Download our Wellness Savings Plan Brochure and learn more about its benefits and how it can help you boost your oral health and hygiene at an affordable price.
These are just 5 of the many reasons that set us apart from other dental clinics. When you are looking for a specialized oral care solution in Charlotte and Concord, choose only the best. Choose Modern Family Dental Care!
Contact us to learn more about our amazing practice. You may also book an appointment through our 24/7 online scheduling system.