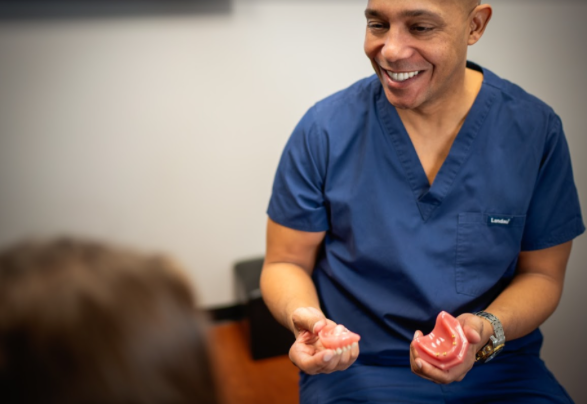 The Modern Family Dental Care team is devoted to providing our patients with the best in customer care. Using the latest in dental technology and dental techniques, we provide superlative service quality.
Because we know that undergoing dental restoration work can be daunting, and dental care is an investment in your health, Modern Family Dental Care is pleased to offer a 2-year Dental Warranty for our restorative work.
Our Service Guarantee
When you invest your time and money, you often expect to receive some type of warranty or guarantee. From furniture, to electronics, to surgical procedures, you can usually expect some amount of protection for the services you've procured or the items you've purchased.
At Modern Family Dental Care, we recognize the importance of feeling safe and comfortable with impending dental procedures, and have developed our service guarantee to provide peace of mind and encourage our continued commitment to dental excellence and your commitment to maintaining existing dental work.
What It Means
What exactly does our service guarantee mean?
For two years following restorative dentistry work, our team will cover the procedures that have been performed at no additional cost to you. If you have a root canal treatment, and that treatment does not turn out as it ought to, repeating the procedure will come at no additional cost to you.
Our service guarantee allows us to show you our confidence in our work and our team, while providing you peace of mind as you take on a new restorative treatment plan.
What It Covers
Our service guarantee focuses on restorative dentistry. Our focus on this area is twofold: restorative services require the greatest commitment to excellence from practitioners and patients alike and can be essential to maintaining oral health.
We believe that oral health is a gateway to overall health, and are happy to develop methods to help our patients maintain their dental health and hygiene.
In our practice, restorative services include the following:
Each of these restorative services is covered under our service guarantee, and each of these services is essential to maintain a consistent devotion to your overall oral health and safety.
The guarantee is for 2 years after the procedure in question, and is contingent upon your adherence to recommended home care practices and treatment protocols.
Why Our Warranty Matters
Warranties are vital for any significant investments, and can help consumers feel safe. At our dental offices in Charlotte, NC and the surrounding areas, we strive to provide services that empower our patients. Offering our dental guarantee (essentially a warranty on our restorative services) encourages our patients to entrust us with their health.
A healthy smile can impact physical and even mental health, and we provide dental services with your whole health in mind. Our service guarantee is a promise that you can entrust us with your oral health, and we will always do right according to your goals and needs.
Insuring Your Dental Care Procedures
Dental care procedures, from dental fillings to root canals, can take a toll on your wallet and confidence. As the number of procedures rises, so too does the toll. Our office developed our service guarantee to help our patients maintain an ongoing commitment to taking care of their oral health, while matching that commitment with our own dedication to excellence and the willingness to guarantee our work.
Instilling Confidence in Our Work
Our guarantee was also developed to help patients feel confident in our work. At Modern Family Dental Care, we pride ourselves on offering the latest in technologies and techniques to make sure our patients are receiving the best possible dental care.
Providing our patients with a dental care guarantee can help inspire confidence in the services we provide, and can help patients feel more at ease. After all, if your dental procedures are guaranteed, you may feel more comfortable partnering with our office for your dental care needs.
Maintaining Partnerships with Our Patients
Our office believes in fostering relationships with our patients. Our team thrives on continuing to maintain strong ties to our existing patients and establishing connections with new patients, and we hope to continue to inspire a sense of partnership with our dental team and patients. As part of the terms of our guarantee, patients must adhere to dental hygiene practices to make sure restorative services are established and maintained over time.
For our part, the Modern Family Dental Care team will provide superlative dental care services. In this partnership, we provide the professionalism and experience, and you provide the willingness to follow standard treatment protocols and maintain your own oral health and wellness.
At our practice and in our patient-care team partnership, we aim to empower and educate, to give you the tools and motivation you need to continue to prioritize your oral health and hygiene.
The Modern Family Dental Care Guarantee
At Modern Family Dental Care, we take great pride in offering our patients the best possible dental care available. The best possible dental care extends to the life of our restorative services, leading to the development of our service guarantee.
Our high-quality services, paired with your willingness to follow treatment and follow-up protocols, are the two components that will make a dental restoration treatment plan truly shine.
We are excited to provide this service to our patients, in order to build trust and confidence in our team's work, and to make sure that your smile and health are at their absolute best. From dental fillings, to dentures and implants, the Modern Family Dental Care team is excited to provide you with the best possible care.
If you are in need of restorative dentistry, reach out to us today!