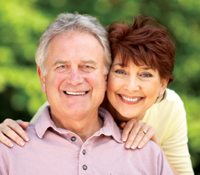 When it comes to replacing missing teeth, you've got options. While removable dentures were the only choice for many past years, patients now have a much more favorable alternative to restore their smile. Dental implants are considered the gold standard in tooth replacement, and knowing the advantages that implants offer over traditional dentures can help you understand why.
When choosing dental implants in our Charlotte office, you'll walk away with prosthetic teeth that look, feel and function like natural teeth. Dental implants are unique in that they not only replace your tooth, but also your tooth root. A biocompatible titanium post is surgically implanted into the jawbone. This "artificial tooth root" fuses to the jawbone over time and a custom dental restoration (crown) is placed on top. Although dental implants come with a higher price tag, the improved security that comes with its design is an invaluable advantage for most patients.
If you want to avoid common denture complaints, consider dental implants at Modern Family Dental Care in Charlotte. Dental implants are known for their superiority over dentures in the following ways:
More Comfortable
Ill-fitting dentures are a primary source for soreness, swelling and jaw pain for many denture wearers. With dental implants, you do not have to worry about your replacement teeth slipping, popping or clicking through the day. There is also no need to make frequent visits to the dentist for adjustments until you get the right fit.
More Natural Appearance
It is important to find a dentist that carries training and skill as well as artistic talent when it comes to crafting your new smile. Removable dentures can often look bulky or fake, especially if they are too white or disproportioned to your face. Our Charlotte implants dentist places strong emphasis on making sure your dental implant restorations are custom fabricated for the most natural look.
Dietary Freedom
Dietary restriction is a major downside to dentures. Many denture wearers tend to avoid foods that are more difficult to chew, which typically include fiber-rich choices that the body needs for optimal health. Consequently, denture patients may resolve to a high carb diet that promotes obesity and diabetes. In contrast, dental implants are just as secure as your natural teeth when chewing. Therefore, you have the freedom to choose the foods that you love and a diet that your body needs.
No Facial Collapse
Premature facial collapse occurs when there is significant jawbone loss. It can make you look older than you really are and it only worsens over time. Your jawbone is reabsorbed and loses density when there is not proper stimulation, which only a tooth root can do. Unlike dentures, dental implants are able to provide the natural stimulation your jawbone needs to avoid atrophy. Many denture wearers find that with time their dentures are harder to keep in place. This is often due to jawbone deterioration, which can be 40-60% after just two years!
At Modern Family Dental Care, we understand that dental implants are a major decision, one that requires a notable investment and one that can also greatly impact your quality of life. We welcome the opportunity to further explain the benefits of electing dental implants or choosing dentures that are supported by dental implants. Contact our Charlotte dental office today and let us restore your smile the way you deserve.
We offer our dental treatments in 2 convenient locations:
Concord Dentist Office Location
Modern Family Dental Care
8455 Pit Stop Ct NW, #140
Concord, NC 28027
(704) 243-8908
Charlotte Dentist Office Location
Modern Family Dental Care
8505 Davis Lake Pkwy, Suite AB-3
Charlotte, NC 28269
(980) 248-2083