How Can Modern Family Dental Care Help You Overcome Dental Anxiety?
Dental phobia or fear of the dentist is one of the common medical problems that people have to deal with at some point in their lives. With dental phobia, patients have an irrational fear of going to the dentist and receiving dental treatment.
If you have this kind of medical condition, it is important to talk to one of our dentists. You will receive the proper education about your condition and get the medical attention that you need.
Not overcoming your fear of the dentist will eventually lead to more serious problems in the future. Modern Family Dental Care will help you overcome your dental phobia. Here are some ways that we can help alleviate your fear of going to the dentist.
Compassionate Dentists
One of the most effective ways of overcoming dental phobia is to have a dentist whom you can trust. The sense of trust that you have with a dentist will make visiting the dental office easier. If you are looking for a dentist that you can trust, you should do proper research and see if the dentist has the experience of dealing with dental phobia. A dentist's reviews well tell you a lot about their practice.
Modern Family Dental Care has compassionate dentists who will take a look at your condition and advise on the best course of action. Our dentists have the necessary educational background and received professional training to help you overcome your dental phobia. You can book an initial consultation with us to see if our services fit your needs.
Accommodating Staff
Aside from the dentists, the staff of the dental office also plays a vital role in ensuring that patients will be comfortable throughout the whole duration of the dental procedure. Our staff loves working with patients and we will do everything that we can to make you feel comfortable during your stay in our dental office.
Comfortable Office
There are patients who have dental phobia and get anxious even at the sight and smell of a dental office. When they smell the distinct odor of the dental office or see the dental equipment such as needles, this triggers their dental phobia and prevents them from getting proper dental treatment.
At Modern Family Dental Care, we have designed a comfortable dental office and experience using state-of-the-art dental equipment. We use the latest dental technology to bring you the best oral care service that you deserve. You can feel safe and relaxed in any of our dental offices while you receive your dental treatment.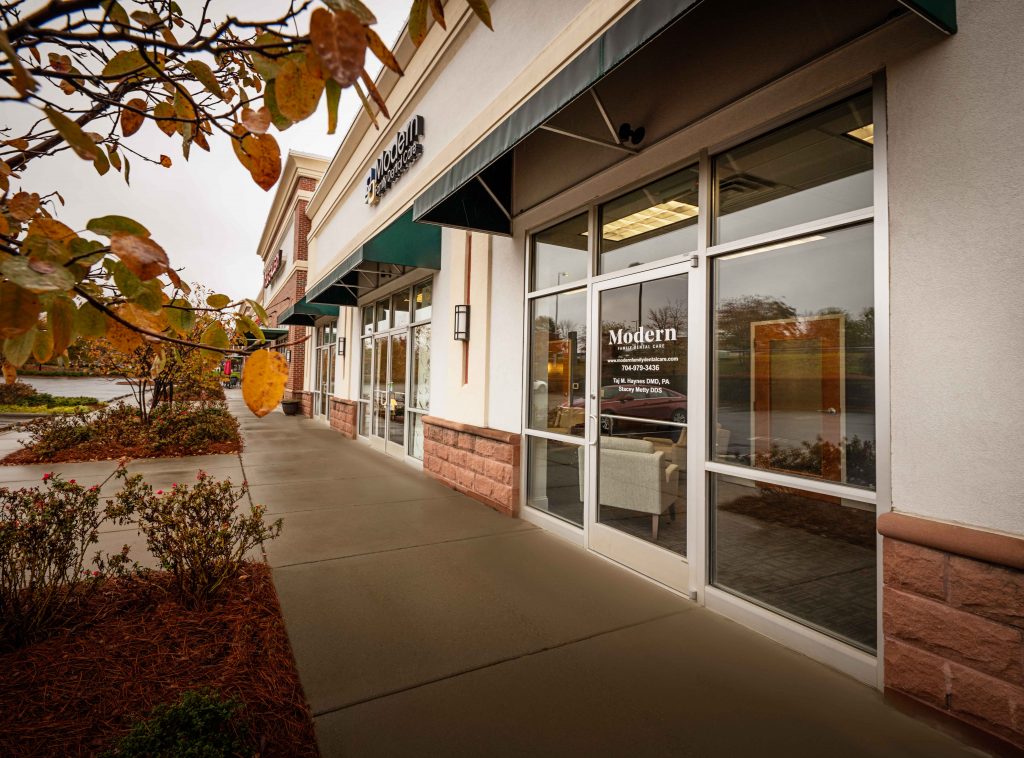 Convenient Locations
Sometimes, it is hard for people with dental phobias to get the medical attention they need because they have to wait for a dental appointment that sometimes could go on for weeks. This waiting period can lead to more anxiety. At Modern Family Dental Care, we make sure to see you as fast as possible when you book an appointment with us.
We provide dental solutions in 3 dental offices located in Northlake, Davis Lake (near the University Charlotte area) and Concord Mills. You do not have to drive great distances just to get high-quality dental care because we have convenient dental locations around Charlotte.
Dental phobia can bring dire consequences if it becomes more severe. Book an appointment now and we will help you overcome your fear of the dentist. For emergencies, use our 24/7 online scheduling to reach us.