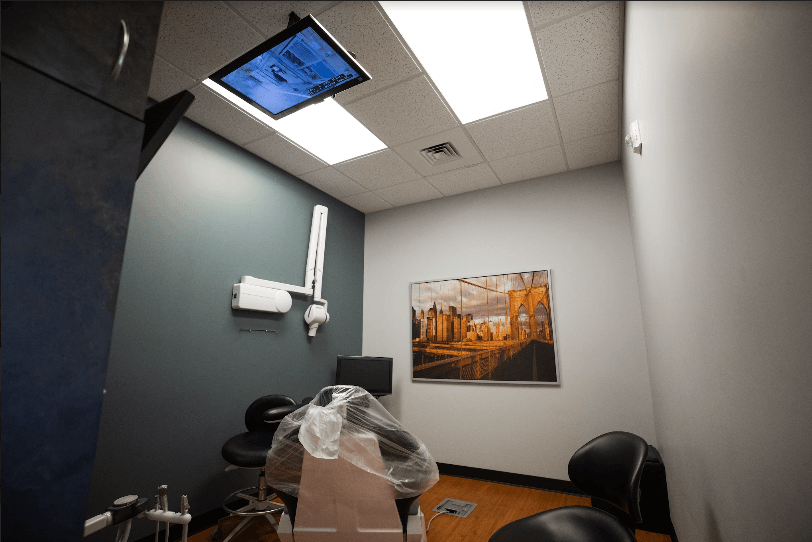 Have you ever experienced anxiety when visiting a dentist?
Factor in having to imagine sitting in your dentist's office and waiting to sit in an operating chair, so it's easy to see why some people completely avoid visiting a dentist. That's why at Modern Family Dental Care, we listen to each and every voice of patients receiving care at our dental practice in the University Charlotte area in order to eliminate dental anxiety and fear.
For this reason, we're happy to notify you of some changes that have taken place within our company as of November 1st, 2022. As part of our rebranding and customer satisfaction strategy, we changed the business name of our Modern Family Dental Care – Davis Lake location to Modern Family Dental Care – University. This name change is part of our strategy to emphasize our commitment to creating beautiful, confident, and healthy smiles for everyone while ensuring the ease of visualizing our dental office location relevant to the University Charlotte and surrounding areas.
After in-depth research, communication with our patients, and market analysis, we realized that finding our dental office location was challenging for many under the Davis Lake brand. As a result, we made some necessary changes to accomplish our organization's goals and ensure our offices adequately serve Davis Lake, Harris Lake, West Sugar Creek, Henderson Circle, Highland Creek, Mallard Creek, University Charlotte area and the surrounding communities. This puts us in the position to develop new dentist-patient relationships and offer high-quality care, which is an integral aspect of our brand identity.
What this means for our new and existing patients is that it's business as usual: we'll continue to provide the affordable, compassionate, and exceptional dental care you've come to expect from us. Our patients' safety and comfort are important to us, which is why we continue to use state-of-the-art technology and follow clean and safe oral care procedures.
"We are happy to announce this formal change and look forward to better serving residents in the University area near the University of North Carolina of Charlotte," shared Dr. Taj M. Haynes, President & Founder of Modern Family Dental Care. "We hope to continue improving patient care, expanding our services, and bringing increased access to the best and most affordable dental care to University Charlotte area residents, and the surrounding communities."
You'll start seeing changes in our business identity system, social media, and website. Please visit our website to learn more or schedule an appointment at any of Modern Family Dental Care's locations.
About Modern Family Dental Care
Modern Family Dental Care has offices in Concord and Charlotte areas and has been providing compassionate and exceptional dental care for over a decade. We take pride in being Concord and Charlotte residents' go-to dental practice because of the healthy, beautiful, and confident smiles we create.
We understand that the health of your teeth and gums plays a vital role in your overall health. So, we are dedicated to optimizing dental treatments for your family with innovative techniques and an individual, comprehensive approach to keep your smile bright and healthy.
A Safe and Clean Practice
At Modern Family Dental Care, our patient's safety is our priority. That's why we intentionally go above and beyond the dental cleanliness standards set by the Occupational Safety and Health Administration (OSHA) and American Dental Association (ADA).
Besides sanitizing our rooms in between patient visits, we use state-of-the-art technology to disinfect every instrument, thoroughly inspect for cleanliness, and provide safe and clean oral care procedures with innovative techniques.
A Welcoming, Comfortable, and Easy-to-Find Location
Our comfortable atmosphere is perfect for patients of all ages. We work hard to create a relaxed, compassionate, and comforting environment that diminishes dental anxiety and fear for everyone.
We built our entire dental practice foundation with your family's comfort in mind. That's why we ensure our offices are easy to find and contain amenities your whole family can enjoy, including free Wi-Fi access, a coffee bar, a video game room, and TV entertainment.
Professional and Friendly Staff
Modern Family Dental Care combines professional dentistry with technology while providing high-quality dental services you can trust with friendly and attentive staff. By firmly placing our patients first, our qualified team, spearheaded by Dr. Taj Haynes, delivers an exceptional experience as we improve your oral health and overall well-being.
Thorough Patient Examinations and Diagnoses
When you come into our office, we want to ensure you're empowered to make informed choices regarding your oral health. Our dentists and friendly staff will listen to your dental health goals and concerns and combine dentistry with modern technology to thoroughly assess your oral health conditions and provide accurate diagnoses. We will also review your current medications and medical history and develop a customized care plan to help you achieve the smile you have always wanted.
Schedule an appointment or visit our dental practice near the University Charlotte area today to join our dental care family and achieve the oral health and smile you deserve. For more information about our dental services or Modern Family Dental Care – University location, please call (980) 434-0002.