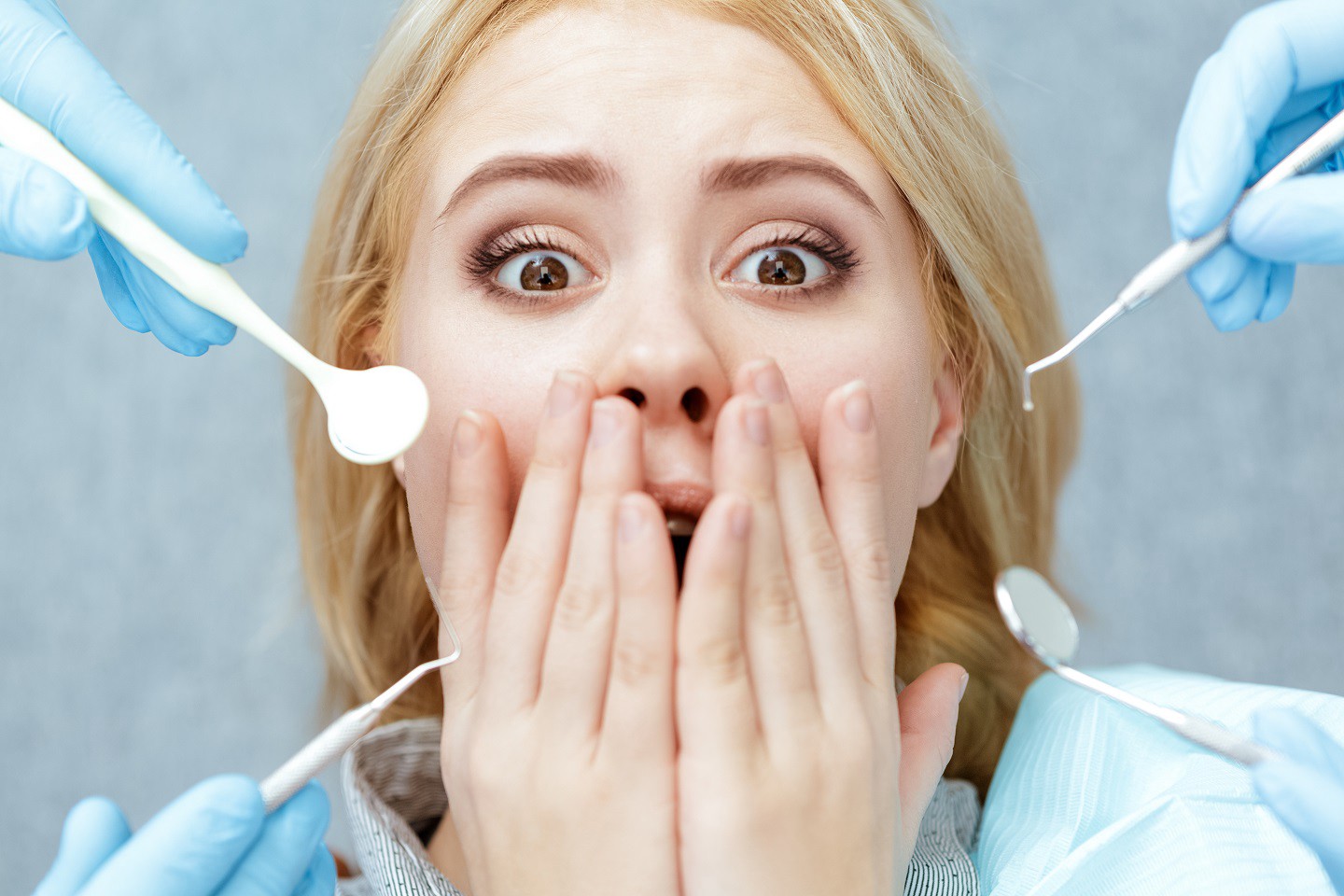 Do you quake in fear when you receive a dental reminder card in the mail? Do you allow years to pass between dentist visits because you are afraid to have someone poke around inside your mouth?
Dental anxiety is a common issue that affects millions of people. In fact, according to Psychology Today, an estimated 15 percent of all patients experience some form of dental anxiety. 
Modern Family Dental is here to assure you that we will help relieve the phobia, fear, anxiety, and stress in dental patients. Our dental practice provides a friendly and comfortable atmosphere to relax and ease any anxiety felt by our patients.  We aim to help our patients in overcoming dental anxiety.
Communication
Don't be afraid to let us know your fears surrounding your dental treatment. Before you set up your initial appointment, give us a call so we can speak to you about your concerns. We will address any fears you have and design a plan to make your visit a positive experience.
At Modern Family Dental Care, we have significant experience treating anxious and nervous patients. Our team will talk with you not talk at you. We won't say phrases like, "Don't worry so much." Telling you not to worry is dismissive of your anxieties.
Instead, we will answer all your questions and walk you through every step of your care plan. We take our time with each patient and will make sure you feel comfortable before we proceed with the next stage of your treatment.
We will develop a system of communication prior to any treatments as a way for you to let us know when you need us to stop or take a break. For instance, we may tell you to raise your left hand at any time you need us to stop.
Comfortable Surroundings
A disordered dental office will not lessen your dental anxiety. Our locations are pristine with well-kept waiting areas that include coffee makers and big-screen televisions. Patients with children especially enjoy the Internet café area and video game room.
The waiting room has soothing décor; no disturbing images on the walls like the effects of gum disease. Every patient is greeted upon arrival by our friendly staff and will receive personalized attention. All exam areas are highly sterile with comfortable dental chairs.
Gradual Pace
Our dental professionals will never rush your treatment plan if you feel nervous. Many anxious patients note that they feel better after their dentists inform them completely about issues affecting their oral health.
During a consultation visit, we will assess your teeth and provide a diagnosis of any oral health issues found during our examination. We will be transparent about dental treatment options available to you and the risks and benefits of each option.
We will show you the images taken by our dental camera, so that you can confirm our findings. Then, we can work out a treatment plan that you are comfortable with—including scheduling mild procedures before moving onto advanced treatments.
Bring a Friend
Modern Family Dental wants you to feel comfortable while in the dental chair. Bringing a family member or friend can make you feel more comfortable when you must go to the dentist. If you're scheduled for a procedure, let us know ahead of time and we can discuss times that your support person can be with you during your visit.
Know Your Options
Many patients experience dental anxiety and fear because they worry about the pain associated with dental procedures. However, most patients find the discomfort experienced during treatment is much less than they anticipated. Dental visits can relieve a lot of pain including discomfort caused by toothaches and gum disease.
Modern Family Dental Care employs a variety of techniques to relax patients and alleviate any pain during procedures. During your initial visit, we can discuss sedation options as well as any numbing agents used during treatment. For instance, dental patients who are afraid of feeling pain from injections can feel reassured that numbing gels are applied ahead of time to prevent any pain caused by dental injections.
Return Control to the Patient
One of the root causes of dental anxiety is the feeling that you are no longer in control. Modern Family Dental Care is focused on letting you stay in charge during your visit. Frequently, we will ask your permission before moving onto the next step of your procedure. We will also explain what types of sensations you can expect during each part of the process and how long they should last.
Find Distractions
Modern Family Dental looks for ways to provide distractions to all our patients undergoing treatments. We have televisions in our treatment rooms, so that you can forget about what's going on in your mouth. You could also bring along a pair of headphones and enjoy your own music. The music will also help block out the sounds associated with your treatment.
Modern Family Dental has locations in Davis Lake, Northlake, and Concord Mills and serves all patients with the utmost of care. We are focused on providing all our patients with a comfortable experience that will chase away any fears about the dentist. Contact us today to find out more about our practice.