According to the Centers for Disease Control and Prevention (CDC), dental cavities or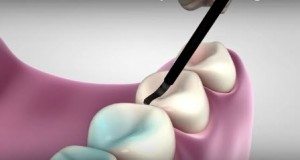 tooth decay is the number one chronic disease in children between the ages of six to eleven (25%) and adolescents aged 12 to 19 years (59%). Tooth decay is four times more common than asthma among adolescents 14 to 17 (15%). A staggering 51 Million+ school hours are missed each year by school-age children due to dental problems. Children in dental pain are distracted from their studies. But children who have healthy teeth have better attendance and are more attentive in school. The good news is that tooth decay is one of the most preventable diseases.
Brushing and flossing are the best ways to prevent tooth decay. But many times bacteria and food particles can remain on the back teeth or molars, which are often rough and have deep grooves or fissures.
One of the best ways to help prevent tooth decay is for a dentist to apply a dental sealant on chewing surface of the molar.
A sealant is a thin, plastic coating or other dental material that seals those areas and helps protect the tooth from bacteria that breaks down and wears away the enamel and causing cavities
• Sealants on permanent molars reduce the risk of cavities by 80%.
• Dental sealants are safe and approved for both children and adults.
• Sealants can be applied to the first molars, generally children start getting those at six years old. Their second molars usually pop through the gums at 12 years old.
• Adults can also benefit from sealants.
• Sealants generally last for several years and a dentist can reapply them, as necessary.
To find out if sealants are right for you or your children, schedule a dental evaluation in at Modern Family Dental Care. We offer dental treatments at these three locations:
Concord Dentist Location
Concord Mills
8455 Pit Stop Ct. NW, Suite 140
Concord, NC 28027
(704) 979-3436
Monday: Coming Soon
Tuesday: 7:00am – 4:00pm
Wednesday: 7:00am – 4:00pm
Thursday: 7:00am – 4:00pm
Friday: 9:00am – 3:00pm
Charlotte Dentist Locations
Charlotte – Davis Lake:
Shoppes at Davis Lake
8505 Davis Lake Pkwy, Suite AB-3
Charlotte, NC 28269
(980) 498-1037
Monday: 7:00am – 4:00pm
Tuesday: 9:00am – 6:00pm
Wednesday: 9:00am – 6:00pm
Thursday: 9:00am – 3:00pm
Friday: Coming Soon
Charlotte – Northlake:
8150 Mt. Holly – Huntersville Rd, Suite A
Charlotte, NC 28216
(704) 817-9547
Monday: 8:00am-5:00pm
Tuesday: 9:00am – 6:00pm
Wednesday: 9:00am – 5:00pm
Thursday: 8:00am – 5:00pm
Friday: Coming Soon